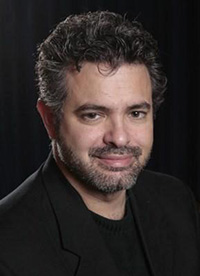 We recently had a wonderful chat with Bryan Pezzone, performer on the PianoSoft album "Let the Sunshine In - The 5th Dimension". In addition to performing on countless Yamaha PianoSoft albums, Bryan is well known for his versatility and virtuosity as a recording and performing artist, improviser and composer. He performs with many major symphony orchestra associations, tours widely with the jazz group Free Flight, and is known in the Los Angeles area as a primary free-lance pianist for film and television soundtrack recording, contemporary music premieres, and chamber music.

You can hear Bryan's work on many cartoons and animated features released by Warner Brothers and Disney, hundreds of major motion pictures and most recently in the film, The Wolverine. We are incredibly appreciative of the time he took to share his thoughts with us.
It's great to have you here at the Yamaha Headquarters. What are you working on today, something new?
Yes, I'm working on a new project, Alfred Burt Christmas Carols. These are really wonderful pieces that not a lot of non-choral people know. Alfred Burt was a Pastor who was also in the military, he moved around the country and was stationed from place to place when he wrote these Christmas carols. To my ear, they're a blend of traditional, sort of, European chant-like carols and traditional French carols like "Caroling, Caroling". He takes this blend and throws in some other harmonies that are a little more jazzy and they are really beautiful. I'm just getting to know him and I'm really looking forward to playing this music. It's good holiday music.
The newest PianoSoft album that we're releasing that features your playing is The 5th Dimension. Do you remember working on this project?
Yes, indeed, I remember 5th Dimension! When I was a kid and watching TV, I remember The 5th Dimension coming on the Johnny Carson show when I was about 7, 8 or 9 years old. They became one of my favorite soul groups because they wore all of this funky, metallic stuff and "Age of Aquarius" was their biggest hit. I loved that song as a kid because it started off so spooky and it was about outer space and then here's this soul band playing it will all this rhythm and blues to it. That really captivated me. I just loved those guys, so when this project came up I was excited to do it and basically recorded a lot of songs I didn't know they did. That was a great project to do.
When I do a project, especially if it's a pop group, like a Queen or Elvis or 5th Dimension, I don't do the Hollywood hit version. The Hollywood hit version is the background pianist that just sits there with the chart and plays every single song in the world the same way. What I do is really listen deeply to the band -- what their drummer is doing, what their bass player is doing, what their orchestrations are and what their voices are, and then I go, "Oh! There's a reason why this band sounds exactly like this band." *laughs* Then I try to capture that in the piano playing and add pianistic things to it. Projects like these give me an opportunity to really learn about the band and learn about what makes a pop or rock act that's well known ... unique. What really makes it special from just being your generic wedding band.
How do you do it? How do you take a band and vocals and reduce it down to piano for two hands? Are you thinking inner voices in the middle, are you always thinking melody on top or do you move things around?
I think the hierarchy starts from the vocal elements no matter what the music is. The Billy Joel projects, Freddy Mercury projects, the Elvis and Elton projects and in the 5th Dimension project, the main quality of what makes their sound is their voice. It could be a single voice, or it could be harmony. So, first of all -- however I can capture that, vibe-wise, on the piano, I do. For example, Johnny Cash, if the voice is swooping and swooning, I'll stick it in a register and I'll use different slips and slides to basically get that tone.
The second thing I listen to with a group is, I can only call it "groove", I listen to what makes their groove their groove. It usually has to do with the following: what is bass player doing and how much is the bass player playing? It also has to do with the internal rhythm, is it filled up with a lot of stuff in a certain way or is it basic. Then there's how the band is orchestrated, is it raw or are there added strings?
Do you write this stuff down?
Well, I do a scratch copy of the tunes and I'll write it down in hieroglyphics and listen to the song over and over and over again to ingest the sound of the piece. I'll play it at home and then I'll usually come in here to the Yamaha studio and remind myself to put on the metronome. You'll always play faster than what tune goes. One of the challenges is, especially with the 5th Dimension project, is those tunes are set in quarter note = 72 and quarter note = 80 and you sit down and instantly play them three times as fast! I had to re-do a number of them to make it work at the right tempo. *chuckles*
Is it true that you do alternate versions? When you do a take, do you play it differently the next time?
I do! I'll basically play a number of different takes until I find the basic ballpark of which one is going to work the best for the triangulation of the idea. Here's the band, here's me, here's the Disklavier parameters. Once I find the best version to polish up, I'll do different takes to find the kind of sweet spot and then go from there.
Maybe someday we can release the alternate recordings of Bryan Pezzone projects.
Yes! You should see what those are filled in with -- cartoon music, slips and slides, jokes. *laughs*
So, outside of Yamaha, what other fun projects have you been working on lately?
Well, I just played Rhapsody in Blue the other weekend with the California Philharmonic. That was fantastic! Let's see ... lots of movies stuff. I worked on Spiderman and Big Miracle last year. The last big movie was with Marco Beltrami, The Wolverine.
I've probably played on more than a few hundred movies and a lot of TV shows. The projects I'm most proud of are Animaniacs and Pinky and the Brain, I loved playing on those. It was great! Richard Stone, he was the composer, was a master. He studied Carl Stalling scores and he had it down to an art-form. He knew what Carl Stalling did and when. If such and such blinked, he used a xylophone, and when something else happened he used a bassoon. Rich imported all those nuances that are in the era of cartoon watching. For these shows, I was playing with the greatest musicians in the world! Ralph Humphrey (Zappas original drummer and the drummer for Dancing with the Stars) and I, in between takes, were running a chess board and had this long-term 10-year chess match going on. Richard Stone was so cool, he'd say, "Ok, guys, time to stop playing chess," turn on the red light and boom, we'd lay it down and it was a gas. The way that Rich Stone just let us play and play around was phenomenal. The energy and fun all became part of the music. These were special days, very special days.